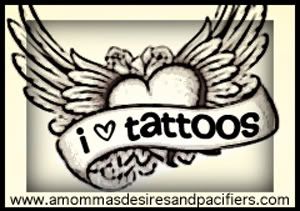 I came across this link up
Cassie
participated in and I thought it would be fun to join in too!
I don't know if I have ever talked about my tattoos before but I have them. I have 5 to be exact. I love all but one of them and even that one gets a tiny bit of love.
"Tattoos fulfill a need to inscribe the self as an individual."
-Margo Demello Bodies of Inscription
I'd like to think there is a theme but I guess I can't say there is across the board on my tattoos. I can tell you that I have plans for many more especially to get my whole left side from chest to thigh done sometime this year. I love them, I love looking for new ones, putting together ideas and pictures trying to decide what I want. I love men with tattoos, I honestly don't think I have ever dated a man without one except my very first boyfriend.
My most recent(2010)
Music is my life...I am pretty sure I listen to it about 75-85% of my day. I think I may add quite a bit to this one as well but it is my starting point for sure.
My very first tattoo(the only one I kinda regret)
I got this bad boy on my 18th birthday. My mom had promised me for months that she would take me to get a tattoo and I didn't believe her so I went right after school and got my first tattoo with my then boyfriend. Now that I am a bit older I regret how big it is and kinda wish I had waited for my mom to go with so she could have convinced me to go way smaller.
Can't tell but this is my hip and it is probably the only one that has some fading issues
This one was a spur of the moment decision with a combination of two separate tattoos that I wanted. I had been looking at a crescent moon tattoo and one of another butterfly for a while then I came across the two and decided to just do it.
inside of my left foot, my mom, sister & I got the same tattoos
My mom, sister and I all decided to get matching tattoos. This one means family. My mom and I got it in the same place and my sister got hers on her shoulder.
My right foot and most painful tattoo to date!
This is actually my 2nd favorite and most painful tattoo. Also the only one visible to the public all the time. The other ones you can only see if I am in a swimsuit or less. It took all of 20 minutes and happens to be the only one where I teared up.
I think this is what my real version of Aladdin always looked like...Ha! It started early.
Anyway, if you have any tattoos I'd love to hear about them, link up over at