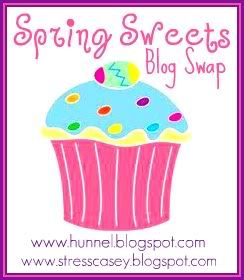 I was so excited to join another swap. They are lots of fun and a great way to find a new blog.
her blog is lots of fun so go check it out..NOW!
Here are the goodies she sent me:
So yummies!! Unfortunately the handle on that adorable plate she sent broke but I found enough pieces to glue it back on! Can't wait to change out the ribbon to something purple! Ha!
So excited to have been partnered with her and my roomie & I are having a great time enjoying the sweets!
I found a cute little Peeps craft on Pinterest I had to try for this swap
Except I decided to make a bunch of small ones!
How adorable is this? All that time at home laying around sick paid off :)
Check out her blog reveal: