It seems there has been a problem seeing the pictures I am posting on my blog lately. I think this is because I have been using a proxy since Blogger & Facebook are blocked in China. I am going to try again at home using my VPN and hope like hell it works. If you are unable to see the pictures below please let me know :)
In other news! Happy Friday!!!
I'm linking up for this fun blog hop. Over the last few weeks I have found some awesome blogs using these hops!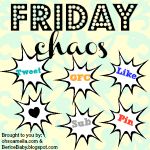 I spent all of yesterday in my bed sick. I swear I really don't get sick that often but the last 3 months I have been sick at least 4-5 times. I forgot how it goes working with kids. I need to get some more vitamins and some sleep that might help my immune system out. Or according to the chinese foreign teachers I need to drink room temperature water and chinese tea and then I won't get sick. Yep. I hear this all the time.
Anyway I am off next week and so glad for it but that means I work tomorrow. Yikes my first day of work on a Saturday in YEARS! I hope the kids are tired too so we can be lazy bums all day.
Hope you all have a fantastic weekend!