Why did it take so long for Friday to get here? The first week back at school is always the worst and working all day then going to class until 8 or 9:30 4 days a week is going to kill me. KILL ME.
irrevelant but I like it anyway!
Some of my faves this week...
- The 5th Wave is comes out today! Wooo!!!! Super excited to see this movie even though I have no clue if I will have time to see it this weekend!
- My favorite post this week is from
Dani @ Faster Than Forever
on her Wednesday confessions about being in the IBTC. I just about died cracking up reading it. Also...always been a
tiny bit
super jealous I can't just wear a built in bra tank top.
- 85-90% of the students in my classes this semester are applying to the RN nursing program. I just keep my mouth shut because by the time all of them apply (maybe get in) and start I will be 3/4 of the way done with my BSN. I would like to help advise them of their poor choice but I don't need the competition to get into the program I want. #Sorrynotsorry
- I mentioned the Lizzy Gardner series last week but since I read the next book A Dark Mind I get to say it again. I love it. A Dark Mind was super dark and creepy. There are quotes from serial killers at the beginning of each chapter and some of them are scary. The book gets dark and twisted and doesn't shy away from being graphic either. I have a very morbid curiosity about serial killers and learning about death/murder so this book was an awesome read for me. *If you are squeamish about detailed murder scenes or descriptions this won't be for you.
If you have Kindle Unlimited the books are free!!
- One of the professors basically told us we won't really need the book, don't need the code that the class "required" and could even use the last edition if we felt like we needed the book for studying. Ummm $129.00 saved. Yes please. Bet your ass I didn't unwrap that book and took right back yesterday. This made my week!
- And because I search for that Kermit gif I found some hilarious ones so that will round out of my faves of the week....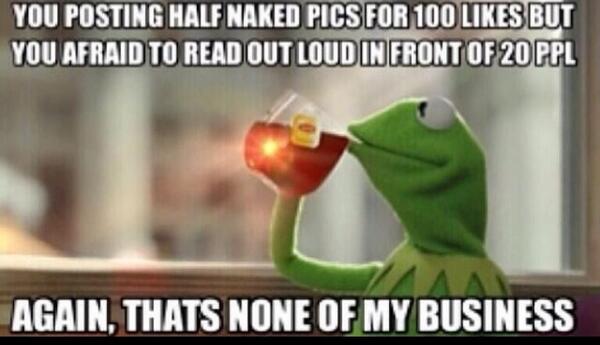 Some of these are just hilarious! Hope you all have a good weekend!