It's Wednesday and snowing...no thanks to my weather app since it says 40% chance of snow while its been snowing for over an hour. #weathermensuck
Time to confess...I might get super confessional today...
I confess...
- I used to be excited for Wednesdays...you know confessions and all that. Now? Now I get to be up at 6:30 and go to work, then class till 9:20 pm. Eff Wednesdays.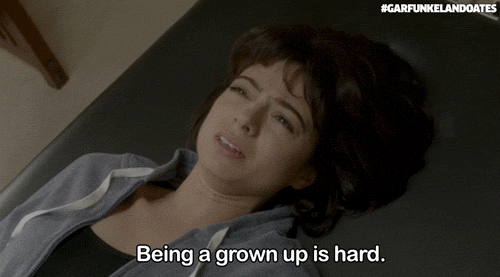 - I have high expectations from friends. I admit it. I expect the person to be as good a friend to me as I am to them even though this may be in different ways. In recent years this has led me to be very selective with becoming good friends with new people. Life happens but if I talk to someone who lives in another country with a 13 hour time difference more than a friend who lives a couple blocks away that is not ok. #sorrynotsorry I am surrounding myself with people who know this about me and want to be in my life.
- My parents were chore nazis. No joke. Like seeing the lines from vacuuming and nothing on the counters, chores better be done before you go outside or touch the tv kind of stuff. I hated it as a kid but now...I CANT handle people who don't clean. Can't handle. Like starting to get a tick when I walk in the apartment and see dishes and food on the counters or hair in the bathtub. It's kind of sick. #dirtypeoplescareme
This is what happens to me...seriously.
- I love love hot weather. Like love it. You will never hear my complain about it being too hot or humid or stuffy. Nothing. The hotter the better. Summer doesn't exist if its not over 85-90 for at least 2 weeks. My life in Chicago has been rough the last couple summers. #hotterisbetter
Sweating doesn't bug me at all. It goes with the weather...
- I have a serious sweet tooth. Its bad. Beyond the fact that it is what always hinders my losing weight I can eat a whole bag of cookies in a sitting and not think twice. I absolutely love
Keebler's Soft Batch
. They are my drug of choice and I need therapy. #cookiesaremydrug
- I fall off the sexy wagon in the winter. No really I do. I barely do my nails, forget combing my hair unless its a weekend and I'm going out and my feet are scary. I try so hard to not let it happen but it does. I get so pale and its so cold and I don't want to get out of bed in the morning and my cute knee high socks cover my too hairy legs. Luckily The Boyfriend continues to lie to my face and tell me I am beautiful and pretend he doesnt notice and I can hide my feet with socks. Maybe confessing this is the first step on the road to recovery?? #ineedhelp #wintermakesmeugly
So there you have it. Some serious confessions today.
What are you confessing??