It is that time again....
I confess...
- I have been slacking a little bit with blogging the last two weeks. I need to check my notes for blogging ideas and get some posts ready for the next few weeks. #seriousslackershit
- Being back to adulting while in school full time is exhausting. I forgot how much. I also forgot that it means I have no more fun weekday social life. I totally wanted to meet up with some friends for drinks last night but I had class. #adultingsucks
- My cold is back and I sound like a man. Its hilarious and yet unfortunate. The Boyfriend was cracking jokes this morning about my sexy manly voice. Ummmm.... #bringmesoup
- I spend a sad amount of time on Reddit. Seriously. It is why I don't go to bed ontime ever. I had to take it off my phone for awhile. There is just so much new stuff all the time!! ALL THE TIME! I find guys are always the ones surprised when they find out I love Reddit because I am not a dude who lives in my mom's basement #addictedtoreddit
- I can't even begin to fathom spending $100+ on a pair of yoga pants. Seriously. Do the pants guide you through the exercises? Do they buy you a drink and some chocolate after? Do they wash themselves? Do they provide some kind of vibration in the crotch area?? If not? Not a chance. #nogracias This comes about having to see this girl I know in lululemon all the time. I was like please tell me you are wearing the same pants everyday and you aren't telling me that you have more than one pair!? I know some of you bloggers probably have them and that is fine. I simply can't justify spending that kind of money on pants that don't do something amazing to me while wearing them.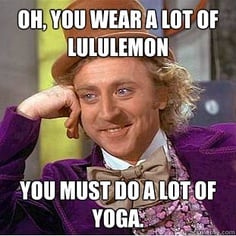 Alright alright...that is enough for today! Link up and confess!