I'd usually complain about Monday but really I am doing alright this morning. First day of a new 6 week challenge which also means I am 5.5 weeks till vacation! Oooo yea!
Friday night the Boyfriend and I went to see Deadpool. He was actually pretty skeptical leading up the movie coming out because he was never really about that Marvel life. Since I have a younger brother I have been hyped for the movie for almost a year. Let me tell you...it did not disappoint. It was as hilarious and inappropriate and fantastic as I had hoped and I can't wait to watch it again. The Boyfriend actually really enjoyed it and was surprised but how good it was.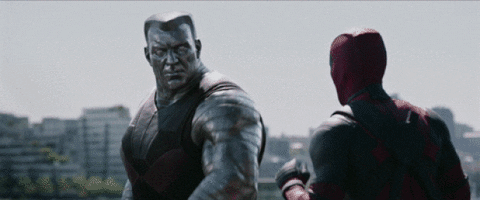 If you haven't seen it...do it.
Saturday
was spent getting chores, errands and a bit of relaxing in before the Boyfriend and I headed to the
Chicago Auto Show.
Neither of us had been in a few years and we thought it would be a fun couple of hours to check out and daydream about some beautiful cars. Turns out I am basically partial to all cars that look like mine(Nissan Versa) and he really likes bigger cars. Some of my favorites were the Hyundai Genesis G90 and the new VW Beetles. I have no intentions of getting a new car until this one is run into the ground but its nice to think about.
We look exhausted...both of us were worn out this week!











Sunday I got to have Brunch at
Kingsbury Cafe
and do some shopping with my friend Toni and then I spent the rest of the day doing homework and studying at Starbucks. I got more homework done yesterday than I have so far in this semester.
I should have taken more pics but all I have is my delicious bloody mary!
It was a good weekend! How was your weekend?